Great Coffee for a Great Cause
(jarheadjava.com or militaryjavagroup.com)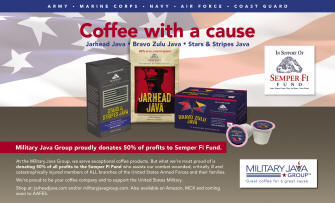 50% of all profits goes to the non-profit Semper Fi Fund/America's Fund.

Give as house warming gifts or keep the office alert while supporting our Vets. Now also available by the case.


Military.com Website (click the image)


Military Times Website (click the image)

Army Times
Navy Times
Air Force Times
Marine Corps Times
Blue Star Families Support Services

Founded in 2009 by a group of Military families, this nonprofit organization grew to more than 150,000 members and over 35 communities and chapters around the globe. Programs and services reach more than 1.5 million military families every year.
Veterans of Foreign Wars The Mission: To foster camaraderie among United States veterans of overseas conflicts. To serve our veterans, the military and our communities. To advocate on behalf of all veterans.
Veteran's Lifeline - Suicide Prevention
For veterans, crises can be heightened by their experiences during military service. If youíre a veteran or service member and in crisis, these resources can help.
Ask for help: Donít be afraid to let your friends know what you need when they ask; they want to help. You can also reach out to confidential 24/7 services like the Veterans Crisis Line.

Inman News Inman News is the leading source of independent real estate news, information, advice, research, opinion and commentary for industry professionals and consumers alike.
AgentCampus.com - The Real Estate Industry's Premier Online Real Estate School

360Training Agent Campus FREE Downloadable Real Estate Career Guide!
RISMedia Real Estate Information Systems, Real estate news for professionals
Zillow Advertise homes for sale or rent or yourself and your services.
Fotosearch Real Estate Real Estate clip art and illustrations available for purchase download
Website Box Realtor Website for only $99 with no monthly fees. Full featured websites including IDX.
ExpressCopy.com direct mail, printing, discount printing, marketing, postcards, post cards, advertising, directmail, business cards, flyers, brochures and more.